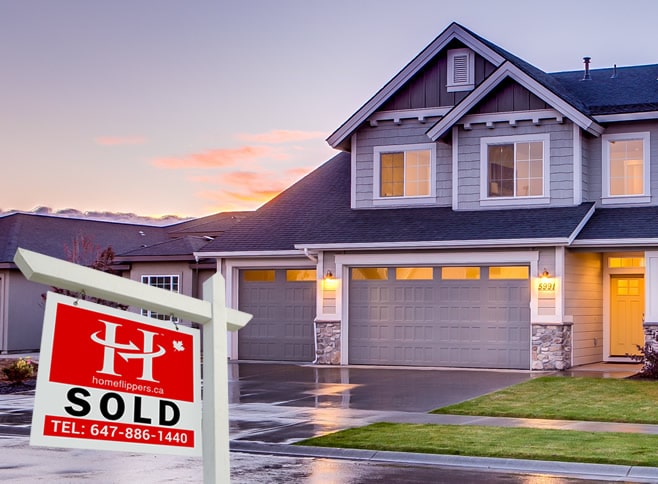 How do I Sell My House Fast in Toronto
You Will Never Have to Ask, 'How do I Sell My House Fast in Toronto' Ever Again
We can buy your home for cash in as little as a week. We make the process as simple as possible and can accommodate any of your requirements when you need a team that can answer the only question currently on your mind: 'How do I sell my house fast in Toronto?'
Your home – especially if you have lived there for a while – deserves to be restored to its former glory once it passes to new owners. Not only will we buy your house for cash, but we promise to return it to 'as-new' before we sell it again.
How do I Sell My House in an Easy Way, Not the Traditional Way?
Here is how we help you sell your home fast without any complications or unnecessary roadblocks.
We have helped numerous clients sell their homes, so you can trust us when we say we understand the struggles that can arise when pursuing traditional selling methods. We can not only help you sell fast but will also help you avoid the following problems that often accompany standard methods of house sales:
You do not have to look for a trustworthy agent first. We are not here to grab your home and leave. We are here to provide you with a fair offer, pay you quickly, and to restore your home and look after it.
Dealing with too much paperwork is something most people hate. We minimise the paperwork and will even handle most of it ourselves to make your life and transition more comfortable.
Traditional methods require that you repair or renovate certain areas of your home first. We buy your house in its current condition so that you do not have to spend a cent more than you can afford.
I Have Had Nothing but Problems Trying to Sell My House with a Realtor
Finding out how many people feel this way might seriously surprise you. After all, that is one of the reasons we started our business in the first place.
Whether in Vaughan, Hamilton, Windsor, Toronto, or elsewhere, people struggle to sell their homes. Some of these homes are incredibly beautiful and have a rich history, but the realtors keep making it difficult for owners to sell through paperwork, unnecessary contractual obligations, and more.
We pride ourselves on making the entire process quick and efficient so that you do not have to stress for much longer. We understand that whatever your reason for selling, you want to handle it as soon as possible and start your new chapter, so why not consider letting us help you do it?
Sell Your House to Home Flippers
Regardless of the condition of your property, we will buy it. You might need extensive repairs, be behind on payments, owe taxes, or have severe damage. The fact of the matter is you need help, and we want to provide it.
Fill out our form and get started with our super-simple, four-step process so you can sell your home in no time.
How to Sell a House Privately (AS-IS) For Cash Today
At Home Flippers, we're a family-run company and professional local cash house buyers that understands just how stressful finding the right buyer for a home can be, which is why we can purchase almost any house, regardless of its condition or your situation, including:
Damaged Houses
Extensive Repairs Required
Vacant Houses Need To Sell Fast
Buying Another Property, Relocating
Home Foreclosure Or Close To Foreclosure
Inherited Property To Sell
Expired listings
Financial Difficulty
Behind On Payments
Taxes Owed
Divorce, Separation
Tough Tenants
Need Cash Quickly, Fast House Sale
Quick Private Sale, No Showings
Contact Home Flippers to get your fair cash offer by calling:
or completing our online offer request form:
Fill Out This Form To Get A Free,
No Obligation Cash Offer Today!